25 Things I Wish I Had Known Before Going to Georgia
I can only hope this was our first of many visits to Georgia. Somehow, a month of travelling throughout the country didn't seem like enough time to really get to know the people, places and foods that make Georgia so unique. Travelling here can be extra memorable thanks to the quirks and mishaps that show up along the way. Since it seems like Georgia is on everyone's mind these days, we've put together valuable tips and advice that will help prepare you for some of the realities of this diverse country. In no particular order, here are 24 things I wish I had known before going to Georgia.
1. Learn at least two words in Georgian
If I could have one superpower, it would be to speak and understand every language in the world. I truly believe language has the power to enhance your travels in a foreign country. I also truly believe I will (unfortunately) never be fluent in Georgian. Any language efforts you make during your travels in Georgia will be much appreciated by locals on the receiving end of your attempts. Start with the two words you'll be saying the most: Hello and thank you.
HELLO Sounds like gamarjoba THANK YOU Sounds like madloba
2. Any Russian you know will come in handy
The day we crossed overland from Russia to Georgia, I was nervous about not knowing a single word in Georgian. The young attendant who spoke perfect English at the border certainly caught me off guard. Throughout our month in Georgia, we found that many people our age spoke English well, especially those working in hotels and restaurants. English isn't widely spoken outside of that so our basic Russian proved to be very useful. After all, Georgia was part of the Soviet Union until 1991 and a majority of Georgia's international tourists are Russian.
3. Georgians really are that friendly
The rumours are true: Georgians are some of the most hospitable locals we've come across during our travels. And it wasn't only when checking in to our Airbnb or guesthouse that we'd receive a warm welcome either. We stopped at a bakery in Batumi for breakfast and next thing you know I was on the other side of the counter learning how they make lobiani and seeing what they had baking in the oven. In Sighnaghi, we popped in to a small gas station looking for dog food and expected to see the type of convenience store we'd find back home. When we opened the doors, we were greeted by workers sitting at a little table on their dinner break who immediately offered us water, coffee and Georgian chacha. There's a saying in Georgia that every guest is a gift from God and we got the royal treatment wherever we went.
4. Don't shy away from market vendors
As much as I love visiting local markets, they can be intimidating at times. I usually find myself shying away from pushy vendors but that wasn't always the case in Georgia. Of course many are looking to make sales but they're often just as interested in having you taste their local sweets like churchkhela and tklapi. You might even find yourself taking shots of homemade cognac with Nino at 10 in the morning.
5. There's beauty outside of the cities
Don't spend all of your time in Tbilisi. As much as I love uncovering all the layers of the capital, the best of Georgia is outside of the cities. Make time in your schedule to visit the picturesque villages, historical sites and beautiful landscapes you'll find scattered throughout the country. At the very least, make time for the Caucasus mountains. Even after visiting the Canadian Rockies and the Swiss Alps, it was the mountains of Georgia that impressed me most. Stepantsminda is a town well-connected to Tbilisi that makes for a beautiful base when exploring Kazbegi. If you're up for a longer (and more arduous) journey, the mountains in Svaneti or Tusheti may interest you.
6. The number of strays may shock you
It breaks my heart to see cats and dogs without a home and nowhere have we seen more strays than in Georgia. Travel has opened my eyes to varying levels of care when it comes to animals but there are hundreds, if not thousands, of strays on the streets of Georgia that I wasn't prepared to see. Luckily several initiatives have started addressing the problem in recent years and hopefully it's only a matter of time before the population is more controlled.
7. Embrace the guesthouse experience
Guesthouse accommodations are a popular choice in Georgia and are more than just a place to sleep. These homestays give you an opportunity to connect with local hosts who provide clean, comfortable and affordable rooms in their homes for travellers. Even if your budget allows you to stay in boutique hotels every night of your travels in Georgia, it's worth adding at least one guesthouse experience to your itinerary. It just might end up being more memorable than your hotel.
8. Say yes to the guesthouse breakfast
Many guesthouses in Georgia offer breakfasts that are included in your nightly rate or available for an additional charge. We made the mistake of skipping out on breakfast while staying at our first guesthouse in Sighnaghi. Instead we opted for a quick coffee and a fresh pastry but, once we heard the other guests rave about it, we made sure to let our host know we'd be eating in the following morning. That's when we were treated to an assortment of Georgian cheeses, khachapuri, khinkali, and tomato salad among other traditional dishes. At first I thought we had gotten lucky and picked the best guesthouse but this proved to be the case everywhere we went. These breakfasts usually range between 5 and 15 GEL ($2.50 to $7.00 CAD) which is a bargain for a feast that will likely keep you full well into the afternoon.
9. Booking accommodations may be harder than you think
In all our years of travel, I have never had as difficult of a time booking accommodations as I did in Georgia. I would sometimes spend hours on Booking.com looking for a guesthouse that was centrally located, with AC, wifi, breakfast and good reviews. The problem? There were too many good options! Even when I filtered my search to only include listings with a 9+ rating (out of 10), I was still faced with a long list to sort through. If that's not an indication of how well guests are treated in Georgia, I don't know what is.
10. Not all hosts are well-prepared
When travelling through Georgia, I would recommend reserving your guesthouse via a third-party site like Booking.com and doing so in advance whenever possible. Your experience will most likely be a seamless one but we had a hiccup in Borjomi with an elderly host who wasn't expecting us. It was hard to figure out the issue given the language barrier but I think her son was helping her with the tech side of the booking platform and, since he wasn't around, she wasn't prepared to host us. She then called on her neighbour for help and we were shuffled around the block looking at other available rooms. It didn't really sit well with us to be staying in a room that would cost more money and didn't offer the same benefits of our initial booking so we politely declined and walked away.
11. Eat khinkali with your hands (but not all of it)
I waited years before trying these traditional dumplings because I promised myself I wouldn't eat khinkali until I was on Georgian soil. Let me tell you, these handmade bundles of savoury goodness are worth the wait. To enjoy khinkali like a local:
• let them cool a little bit (they're often served steaming hot)
• grab the khinkali stump with your hands
• flip the dumpling upside down and take a small bite
• drink up all the broth and don't let it spill
• bite your way around the stump
• feel free to leave the stump behind
You've done it right if your plate is dry when you're finished. Khinkali in Georgia are usually priced around .70 GEL each and most restaurants will have a minimum rule of 5 per order.
12. Mix the egg, cheese and butter when eating khachapuri
Khachapuri is another local specialty you have to try while in Georgia. One of the most popular versions of this cheesy bread is khachapuri adjaruli which you'll recognize as 'the one with the egg in it'. Before diving into your khachapuri, mix together the egg, cheese and butter with either the tail end of the bread or a fork. They are often more filling than they look so getting one to share is probably a good idea. We liked the ones at Retro best!
13. Check your bill before tipping
Some restaurants in Georgia will add a 10% service charge to your bill. It isn't common practice to tip when a service charge isn't included but it's always appreciated if you wish to. Outside of restaurants, tipping seems even less common. We once tried to round up when paying for a ride in Batumi and our driver wouldn't take the extra change.
14. The wine is different than what you're used to
Wine is sacred in Georgia and locals value the history and tradition of wine making in their country. It's believed that wine was being made in this region as far back as 8,000 years ago. The juices, along with grape skins and seeds, ferment in large clay vessels called qvevri that are buried underground. This was my first time trying Georgian wine and I'll admit it does have a unique taste when compared to traditional European wines. It's not necessarily better or worse. Just different.
15. Brace yourself for the "dynamic" driving
I thought Croatian drivers were crazy until I got into a car in Georgia. It started out innocent enough with no seat belts. Then going well past the speed limit. It wasn't until we were passing trucks on winding words that I really started getting nervous. The cherry on top was the many drivers who would drive in the wrong direction on a one-way road as a shortcut when dropping us off at our Airbnb. Someone online pointed out to us that we're probably just not used to seeing how locals drive in Europe. Could be. I told him I'd ask the Italians that were cursing "Madonna mia" under their breath and the French couple who were holding hands and gasping.
16. Your driver knows those roads better than you do
When you're in the back seat of a car that's speeding down winding roads while your driver is on his cell phone, it can seem like death is imminent. It certainly feels wreckless of them but anytime we hinted at it, the drivers would remind us they are on these roads every single day. "это просто" they would say. It's easy. It's simple. This was a little reassuring at the time but it didn't stop me from holding on for dear life.
17. Look for underground passageways before jaywalking
When we first arrived in Tbilisi, Wes and I were confused and frustrated at the lengths we had to go to just to cross the street. There are so many busy intersections throughout the city with nowhere for pedestrians to cross. It took us a while to notice the underground tunnels and passageways. Use them and don't push your luck because we've seen people get ticketed (and fined) for jaywalking in Tbilisi.
18. The novelty of martshrutka rides will wear off
Martshrutkas are shared vans that drive popular routes throughout Georgia. They're not the most comfortable but they're usually the most affordable way to get around. The first one is new and exciting. The next one, a little less so. By the end of our month in Georgia, we were exhausted at the thought of getting in another martshrutka. Even some locals prefer to avoid the wild ride and opt for more spacious coach buses or trains to travel long distances in Georgia.
19. Don't be intimidated by the yelling
We witnessed several loud encounters on the streets of Georgia from market vendors arguing to marshrutka drivers in heated debates to women yelling at their children. Let's just say it can be hard to differentiate an aggressive dispute from a passionate conversation among locals. No yelling was ever directed at us but it was a bit of a culture shock for me at first.
20. Batumi could surprise you
I had read a few articles about Georgia's seaside city that led me to believe I wouldn't like Batumi one bit. Some say it's a tired, confused resort town but it only took a day for me to realize I actually really enjoyed Batumi. The city definitely has its quirks but we had a great time walking along the boardwalk, admiring the unique architecture and swimming in the Black Sea. Mind you, we got lucky with the weather but I still think next time we'll end up exploring more of Batumi and its surroundings.
21. Opt for the tour even if you normally don't
Whether you normally do tours or not, it's something to consider in Georgia. There are some regions that can easily be explored independently via marshrutkas or trains but several pockets of Georgia are worth getting to know better. Private drivers and guides are readily available throughout the country and allow for a better understanding of the history and tradition in regions you're visiting.
22. Trust the locals but keep your wits about you
Despite what you read here (or on any other blog for that matter) if a local offers you travel advice in Georgia, you should take it. If a host tells you about a local restaurant their family loves, try it. If your Bolt driver suggests an amazing spot for sunset, go there. We took locals up on their suggestions so many times and were never disappointed. It's all well and good to be trusting of strangers so don't let your guard down completely. While we felt very safe in Georgia, and the crime rate is quite low, it's important to be cautious when travelling.
23. Be patient and flexible
Part of what makes Georgia such a unique travel destination is that it's still raw and rough around the edges. Travellers who crave heading off the beaten path will love the adventures that await but others should be prepared for things that may not always go according to plan. That bus you're waiting for might never show up. The store you walked out of your way to visit might be closed. The power could go out and you might be without water one morning. All of the above happened during our month of travelling to Georgia and you learn to just shrug it off and go with plan B.
24. Some things just don't make sense
There are some places in Georgia that are anything but organized. And I'm not just talking about the chaos and haphazardness of Tbilisi. Take, for instance, the train station in Batumi. It's a big, new and very modern-looking building but it's practically empty inside with few useful facilities for the average traveller. Instead you'll find a giant furniture store on the upper level for that sofa you wanted to buy before catching your train. Another example of this was when we were leaving Georgia and had a hard time finding our departure gate at the Tbilisi airport. The gate numbering system really had us scratching our heads and we weren't the only ones walking back and forth. Departure gates can be found in this order, from left to right: 103, 102, 201, 101, 100A and 100B. A very cheeky and fitting farewell.
25. You will be rewarded more than you imagined
Georgia was a memorable journey for me. It was an eye-opening, heart-softening, roller-coaster of emotions. For years I'd been wanting to visit and everything about our month in Georgia proved to be well worth the wait. Now I find myself missing it. I look forward to hiking in those mountains again and getting my hands on some of that sulguni cheese. Until our next visit, thoughts of my interactions with locals will always put a smile on my face.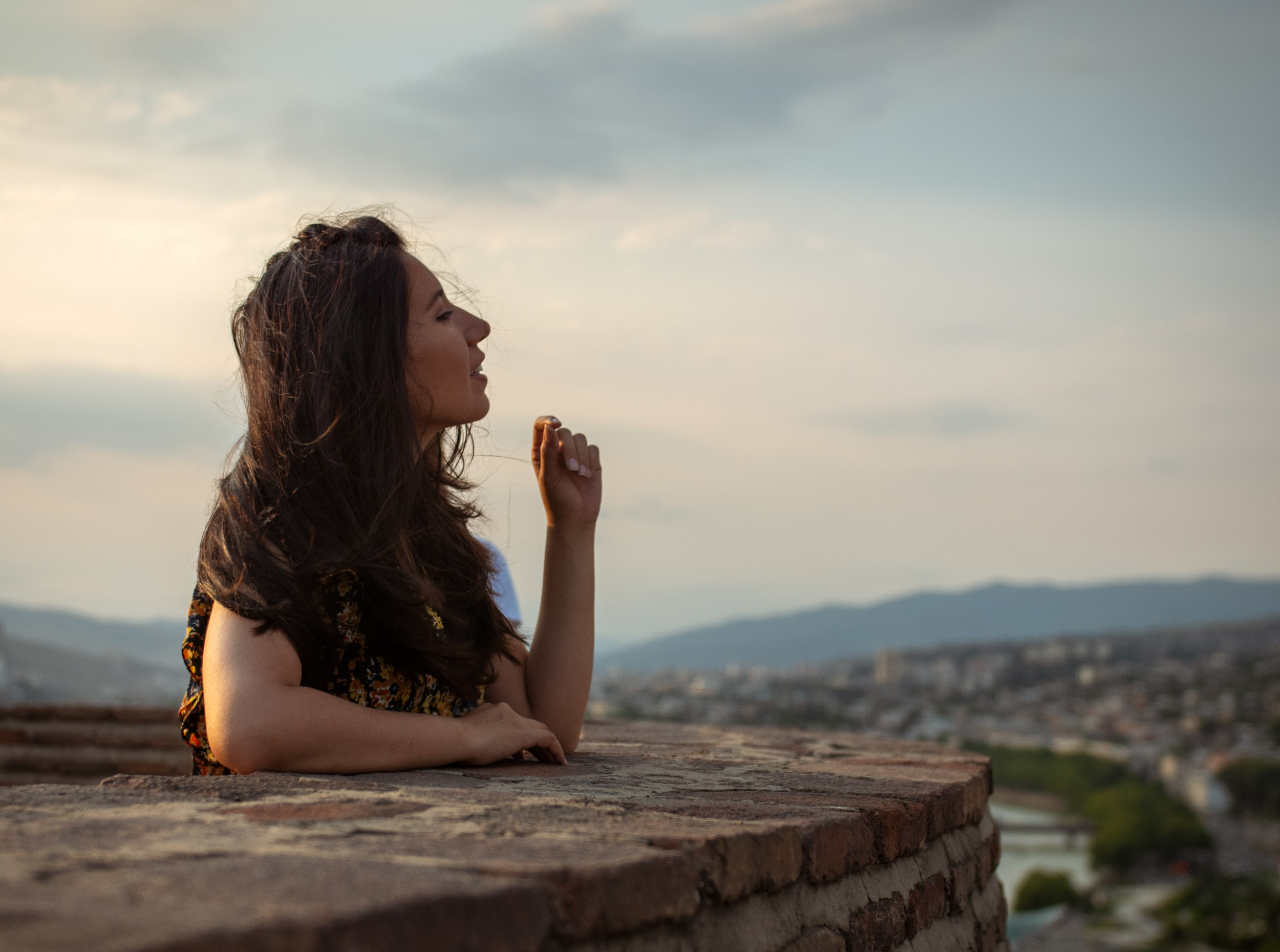 "A mind that is stretched by a new experience can never go back to its old dimensions."
Travelling independently throughout Georgia calls for a bit more patience than you may be used to. Some facilities await repairs and others simply don't exist yet. I think this is a period of growing pains for a country that has never seen such a rapid growth in tourism. Visitor numbers in the country are reaching record highs and I hope the right initiatives are carried out to ensure this growth is sustainable. At the end of the day, Georgia quickly proved to be among the most diverse, unique and downright beautiful countries we've ever been to.
And, yes, I do wish I had known all this (and more) before travelling to Georgia because it would have better prepared me for the realities of travelling there. Would it have spoiled the surprises that come with travel off the beaten path? Probably. But I don't doubt for a second that Georgia will surprise you more than you could ever plan for.
◇◈◇